E90-1 - BLACK POWER 3 - APPLE v DEMI
E90-2 - BLACK POWER 3 - DANIELLE v REENY
E90-3 - BLACK POWER 3 - FAYE v TIGGER
Featuring entirely nude action, this title is one of those guaranteed to live in the memory thanks to its combination of face-sitting sub/dom sensuality and wrestling action. It doesn't hurt that the first two girls on the mat are two of Festelle's hottest – lissom Apple and demure Demi attempt to pin and straddle each other in a sizzling interracial battle. It isn't long before one girl gains the ascendancy, taking residence on her opponent's face while playing with her breasts.
Then curvy blonde Danielle initially has too much sexual power for gorgeous black girl Reeny - both grab at one another's breasts as Danielle sits on Reeny's face. Reeny memorably turns the tables, wiping that predatory smile off Danielle's face.
Finally, in a shorter encounter, bigger girls Faye (also known as 'Paradise') and Tigger struggle to master the other – both love being on top but who will prove the more sexually dominant?
NEW: DOWNLOAD A SAMPLE CLIP FROM E90 BY RIGHT CLICKING HERE AND SELECTING 'SAVE AS'
E90-1 - BLACK POWER 3 - APPLE v DEMI - 189Mb - 25-minutes
E90-2 - BLACK POWER 3 - DANIELLE v REENY - 151Mb -20-minutes
E90-3 - BLACK POWER 3 - FAYE v TIGGER - 48Mb - 6-minutes
CLICK TO BUY E90 AT THE DOWNLOAD STORE (Only E90 titles will be shown making the store quicker and easier to access)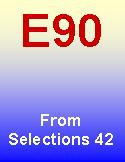 IF YOU WOULD LIKE TO BROWSE THE WHOLE DOWNLOAD STORE (All titles, may take some time to load) CLICK HERE: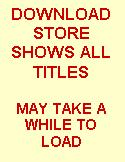 (Please note this new title appears at the top of the store page for ease of access.)